Inhuman colossus. Today, Vuelta serves the Los Machucos liquidation ramps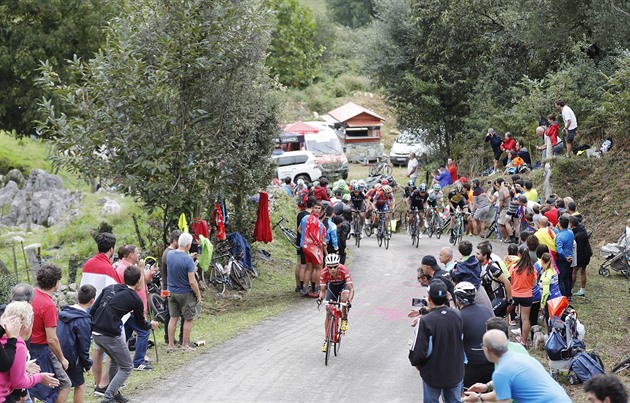 Los Machucos.
In a poll on social networks, fans chose this hike as the most charismatic and hardest climb of this year's Vuelta. The goal of Friday's 13th stage.
On Friday there will be a battle between the greats of the race.
Only in the 2017 season was Los Machucos for Vuelta in the north of the country in Cantabria. And even before the actors of Vuelta were scrambling at him, he received fearsome nicknames in the Spanish media.
Inhuman Colossus. Monster. That's how the diaries of Marco and As wrote about him.
"Brutal. Absolutely brutal, "Chris Froome confirmed.
"This is a climb that you will never forget.He is like Zoncolan, as Angliru, as Bola del Mundo, "said Vincenzo Nibali after Vuelta's premiere visit to this mountain.
Spreads one at a time, two at a time, three at a time, The length of the hill.
At 6.8 kilometers, an average slope of 9.2 percent awaits cyclists. What lacks Los Machucos in length is replaced by other pitfalls.
The narrow road has bumpy asphalt, sometimes replaced by even bumpy concrete blocks. Treacherous ramps alternate false planes. Los Machucos is a roller coaster with a constantly changing rhythm. Even a tilted turn here.
Already at the beginning of the climb as if you hit a wall, the first kilometer comes with a ramp of 17.5 percent.Then a short descent and soon thereafter even a 25 percent ramp. In the middle of the ascent, a two-kilometer-long, 13-percent-length-free stretch follows a short false straight. Then the passage, which again has 25 percent, will drain the rest of the forces.
"Rampas inhumanas," the Spaniards write. Wrong choice of gears can have far-reaching consequences on them.
In 2017, the summit drowned in the fog as they clawed up between rain drops on wet concrete blocks.
The victorious Vuelta was living here by Chris Froome. He fell for his rivals, the helpers headed by Mikel Niev the men in the red jersey almost pulled to the goal, where he arrived with a loss of 42 seconds.He kept coughing at the stage in the fog and the cold winter.
Yes, it was after this stage that his famous Salbutamol cause was born, dragging for another nine months. some sunken cars have to be pulled out by tractor.
Who knew the Aqua Blue team would fail a year later?And that in February 2019, after the Austrian police raided the Erfurt doping doctor Mark Schmidt , the criminals himself confessed that he was Schmidt's client in connection with blood doping.
He gets a four-year distance, taking a stage victory from Los Machucos to take him away and then awarding him second in the finish to Albert Contador.
But Contador is no longer in the peloton this year, he has finished his career, joining the Eurosport microphone.
The show for other men will take place at Los Machucos today.
Philippe Gilbert of Belgium, Quick-Step, was the twelfth different stage winner on Thursday at this year's 12 stages of Vuelta.No cyclist has ever won two at this year's event. Last time something like this happened in 2008, when fourteen initial stages had fourteen different winners.
Will this trend continue on Los Machucos?
After two days of success expected refugees from the escape, here is a merciless battle for men for the overall classification.
Although on Thursday drop these cyclists properly perfused their legs, but there was more or less truce. He was disturbed by Miguel Ángel López attacking the last and steepest climb of Category 3 on Arraiz.
Roglic personally quickly eliminated his onset.
"We controlled everything.My team is strong, "assured Slovenian. "When Lopez attacked, I was a bit blocked by Pogachar at the moment," said the Spaniard. "I reacted a little later, but it wasn't a problem." .
"It was an honor to wear a red jersey today," he said on Thursday in Bilbao. "But the happiest thing to do is to wear him in Madrid." He doesn't know Los Machucos in person. He just heard about him.
"But I'm not afraid of him," he says.So far, nothing has left him unbalanced, not even two crashes, first in the opening team time trial and then on Andorean gravel.
"One of Primoza's most powerful weapons is that he is an intelligent rider," says Patxi Villa , sports director in competitive Boře. "He is still developing as a cyclist, but he learns super fast. I think we won't see some of the mistakes he made on Giro in Vuelta. "
Of course, rivals will try to provoke them.
" It will be a great day on Friday. , "Says López. "First, six of the second or third category climbing premiums, and then at the end of Los Machucos. All the hills that come before him will take away your strength. I hope I have good legs.Los Machucos is all about legs. "What will the Cantabrian Monster reveal? What about the other mountains? Because it doesn't stop by Friday. Neighboring Asturias will soon offer more giants, already on Sunday Alto de Acebo and on Monday the treacherous and so long Cubilla.
Madrid is still so far. , will be brutal today.